Car Audio
For the best in car audio, Audio Electronics has been Indianapolis's mobile electronics shop since 1973. Let us use our in-depth knowledge, experience, and expertise to help you create the car audio video system of your dreams! Whether you're interested in upgrading your stock speakers, want to install a sub woofer for some kicking bass or are considering a complete car stereo overhaul, our team of car audio pros can help. Audio Electronics is a complete mobile electronics sales and installation outlet, and our expert staff is ready to help you get the ideal car stereo system for your listening tastes and your vehicle. Call today!
At Audio Electronics, we carry a huge selection of car audio components from the leading manufacturers, so from subwoofers to decks to amps we're sure to have the right equipment for just about any vehicle. We invite you to drop by our Indianapolis car audio showroom to demo products and browse our assortment of car stereo components today. Our sales consultants are standing by help you select the right products to create the sound experience you've always wanted–it's time to leave mediocre sound in the dust.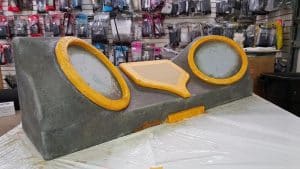 Audio Electronics is the mobile electronics shop to call when you want your car audio system to sound and LOOK great. We provide superior custom installation to ensure your sound system looks as fabulous as it sounds. With over 35 years in the industry, we have the expertise and skills to bring you correct, complete, attractive installation. From custom enclosures to custom wood work, our experienced, qualified installers are ready to provide the best in custom car audio installation. Whether you're interested in a sleek, discreet OEM-look installation or want an exotic show piece installation, the Audio Electronics team has what it takes to do the job right. Call today to get started on creating your custom car audio video system!
iPod Integration
Take your mp3 player on the road with iPod integration from Audio Electronics. Today's iPod integration systems directly interface your mp3 player with your car audio system, eliminating the staticky FM transmitters of older systems to bring you top-quality sound. iPod integration brings you clear sound and easy operation right on your car stereo deck–in fact, your iPod integration system will even charge your iPod, so it's charged and ready to go when you reach your destination. It's time to upgrade to an iPod integration system from Audio Electronics. Visit our Indianapolis car audio showroom to learn more about installing iPod integration in your car or truck!
Car Speakers
Head units
Mobile Electronics
Mobile Audio
Amplifiers
Car Stereo
Car Audio Installer
Motorcycle Lighting
Motorcycle Audio